Pentesting for higher
cybersecurity
In pentests, we consciously search for security vulnerabilities in IT systems before hackers identify and exploit them.
The goal of pentesting is to identify these gaps at an early stage and thus develop quick solutions.
Various tests for different fields
This is how we run pentests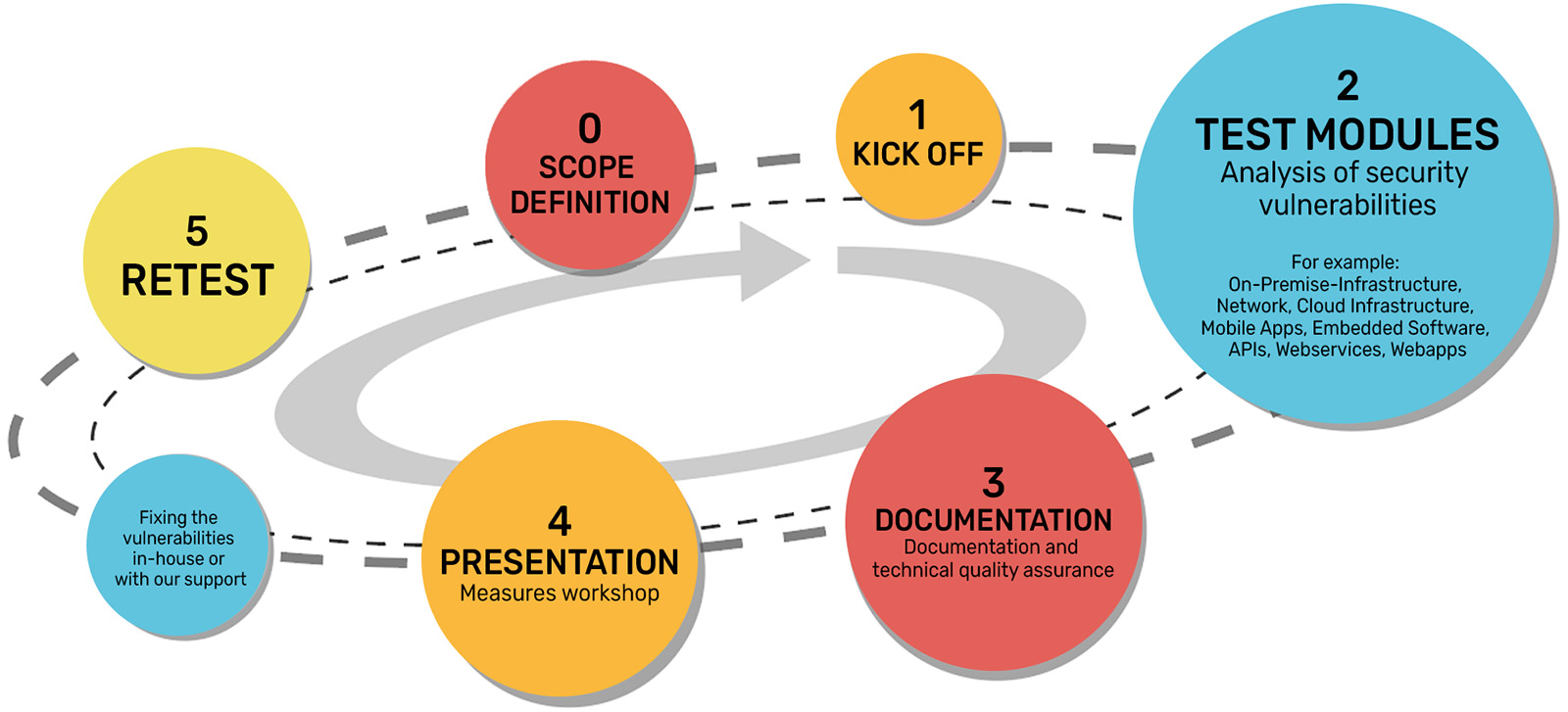 We use a combination of automatically executed tests and manual, explorative procedures. In doing so, we combine speed, repeatability, and high throughput capability of machine testing and also rely on the creativity, expertise, and combinatorial skills of our cybersecurity engineers.
Meanwhile, we draw on known databases/repositories such as NVD (National Vulnerability Database) of the U.S. government or CVE (Common Vulnerabilities and Exposures) U.S. Department of Homeland Security, to identify possible vulnerabilities. With our many years of experience in the field of software development with the highest IT security standards, we design test and attack scenarios adapted to your software. This allows us to check possible attack vectors (one attack path) or attack surfaces (multi-stage attack methods).
As a result, each vulnerability found is evaluated using the Common Vulnerability Scoring System (CVSSv3) and provided with possible mitigation measures, including effectiveness.
In other words, you get a quick overview of the security status of your software and can use it for improvement.
We check the corresponding applications (Web/WebApps/Apps) for security risks during our pentests. This sometimes includes front-end and back-end, but also web services, APIs and other components.
These are the vulnerabilities we test for you
Synergies are our recipe for success
BAYOOTEC and BAYOOMED – many years of experience in software development, not least in safety-critical areas, and IT security meet expertise in the field of medical software. With this cooperation we support you with the comprehensive knowledge of both organizations. Write us and we will be happy to advise you and talk about the possibilities for more security of your software, medical software, apps and DiGA.
Contact now
Whether you have a concrete software project in mind or you are looking for answers to open questions – we are here to help you.
Please make an appointment and let's find the right solution for your project together.